August 9, 2021 (DAY 5 of safari) by Pamela Hamburg
We left camp at 4:40am for our hot air balloon ride. Only me, Glenn and Alana (Loni) chose to go on this. On the way, we saw a Caraco cat, a servil cat, crocodile, land hippo and the highlight – 3 male and 3 female lions that were huge. One crossed the road in front of us. They were hanging out by the road. Unfortunately I don't think the pictures will turn out great because it was dark. We also came across a dead hyena in the road, with another one hovering over it, but not eating it. We speculated that it was a child of the dead hyena and they were trying to wake 'mom' up.
We got to the balloon ride site as the sun was starting to come up. The best thing about the balloon ride was the take off and landing. The basket was on it's side and we had to climb in like astronauts. The basket fit up to 16 people (4 per quadrant) but we only had 11. Zumo, the pilot was fluent in at least French, German, Swahili, English and Spanish. He was very well versed. Most of the flight was spent about 10 feet off the ground but we went higher a few times. We didn't get to go to the river where the wildebeest migration was because of the wind. We barely saw any animals at all which was a pretty big disappointment for me since we had paid $600 a piece for this ride. We saw one elephant, some gazelle and a few zebras. We assumed the same position for landing and bumped along the ground for a few feet before stopping. Afterwards we had champagne. Then they took us to a breakfast in the Serengeti under a big acacia tree. They had wash bowls to clean up, more champagne, and a 'loo with a view' which was kind of cool. We had a nice breakfast then got taken to the tourist center where we were dropped to rejoin our group.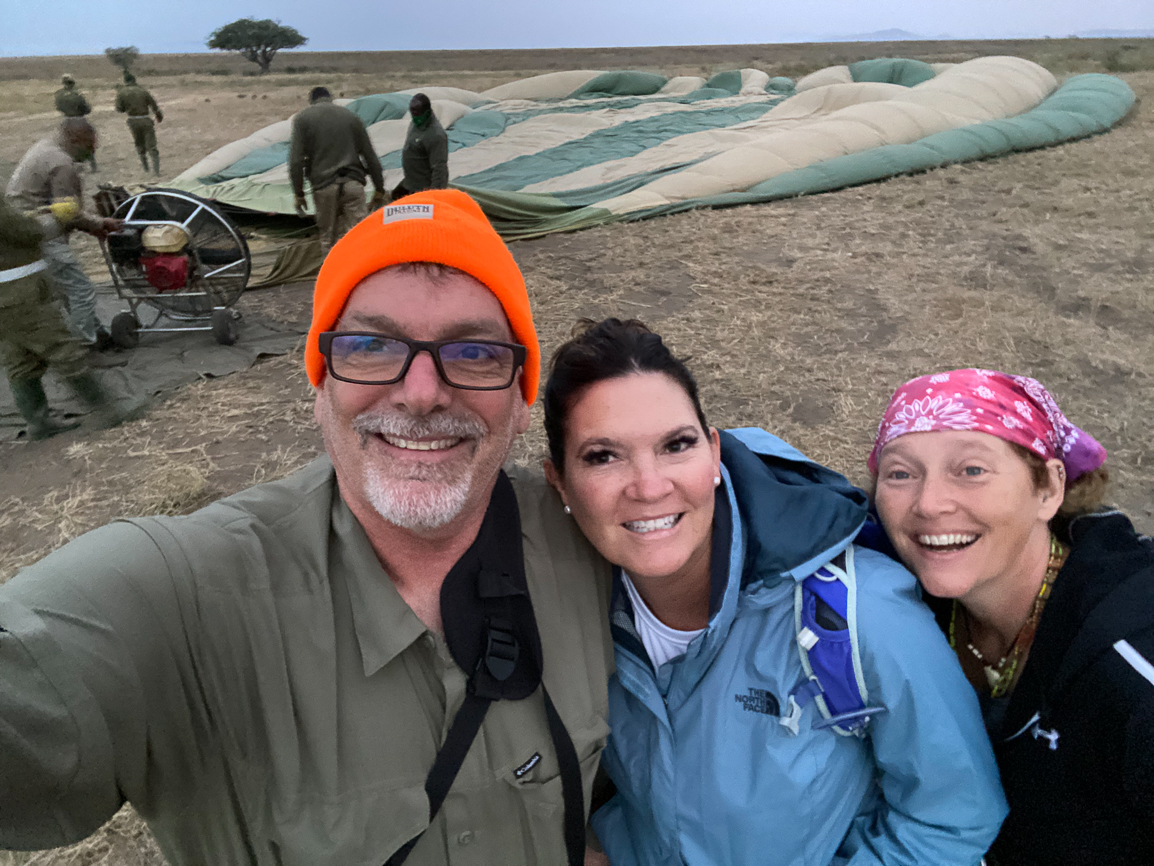 First stop was another group of lions, a young male and some females by the road. We saw dwarf mongoose at lunch, which were like large rats. Then we headed up to the northern section of the Serengeti to the Mara River. That was a 3+ hour ride on a bumpy road in the rain through some villages. This is the area where the wildebeest migration is currently. We saw the Mara river and posted up at a few different crossing areas waiting for them to cross but no such luck.
We headed to our 2nd tent camp (Kenzan Mara) which was not nearly as nice as the first one.  You had to schedule hot water for a shower which barely trickled out, then ran out completely before Glenn even got to shower.  The electricity went out before we even went to bed and they didn't even forewarn us about that.  I was in a pissy mood that night.