August 6, 2021 (DAY 2 of safari) by Pamela Hamburg
We headed out at 7am for Tarangire National park. Along the way we passed a few little towns, then got to the area where the Maasai people live. All of a sudden it was barren, with nothing but dirt, dried up corn fields, and a few trees here and there. Scattered around were huts that they lived in and along the road we saw Maasai taking their cows and goats out in search of food and water.
According to our guide, Ibrahim, they have no water in their houses and sometimes have to walk for days just to get some water to bring home. That was very sad to hear. I saw countless Maasai walking with buckets, either in search of the water, or bringing the water home. The Maasai men wear robes/wraps, mostly red in color but we saw other bright colored robes as well. We'll be visiting one of their villages in a few days.
Once we got to the park we saw soooo many animals. The park today was very different as compared to yesterday's park (Arusha NP). Yesterday it was really lush and green and kind of jungly. Tarangire NP was dry, brown, and didn't have a lot of vegetation, and the roads were really bumpy. We saw some of the same animals we saw yesterday but also some very different ones. The ones that were the same were giraffes, zebras, pumbas, and water buck. In addition to those, today we saw impala (deer-like antelope), bachelors (the male version of impalas with horns), mongoose, wildebeest (aka gnus), black faced monkeys, male ostrich, dik dik (smallest of the antelopes – looked to be about 10 pounds), ELEPHANTS, and lions!
We saw an assortment of pretty birds too – the lilac breasted roller with beautiful teal wings, starlights (blue, teal and red), Egyptian geese that appeared to have eyeliner on, the white-headed buffalo weaver, among others. This park is also famous for it's trees. The most famous is called the Boabob tree. It's the one they modeled Disney's 'tree of life' after. They were everywhere. Unfortunately you can't use them to make furniture because they are very spongy and not hard wood. The most exciting part of the day was having a herd of elephants come right up to our truck and look at us up close. We were told to be very quiet so we didn't make them mad. I guess they have very poor eye site so they rely on hearing and smell. I've seen videos of elephants chasing trucks and turning them over – the thought crossed my mind as I was videoing them, but it didn't stop me. That was a totally amazing experience. I didn't think we'd ever get that close to an elephant, let alone a whole herd of them.
We stayed there until the elephants moved on. After that we began our search to find a lion. The drivers have two-way radios where they talk to other drivers in the park about who is seeing what and where. Our driver heard there was a sighting of a lion at one location and we drove like bats out of hell to that place just to find out that the female lion was sleeping and could hardly be seen from our trucks. We moved on. After lunch and trying to keep the monkeys from stealing our food, we got alerted to another lion sighting. This time there were more than one lion. We saw a bunch of cubs hanging out, a few younger ones and a few that were probably 1 year old. They were lounging under a tree. Shortly we saw all the zebras and wildebeests that were in the river bed take off running in the opposite direction and shortly after that, the mama lion came back towards her cubs, with nothing to show. One by one, the cubs got up from their resting place and made their way down to the river to drink. Mama stayed up (on the lookout). There were 7 lions in total – 6 cubs and the mom. Pretty soon, mama lion looked up the hill and spotted another herd of wildebeests and zebras that were completely unaware of her presence and they looked to be coming this way. All of the cubs tuned in to this as well and soon all 7 of them were sitting still, looking in the direction of the herd.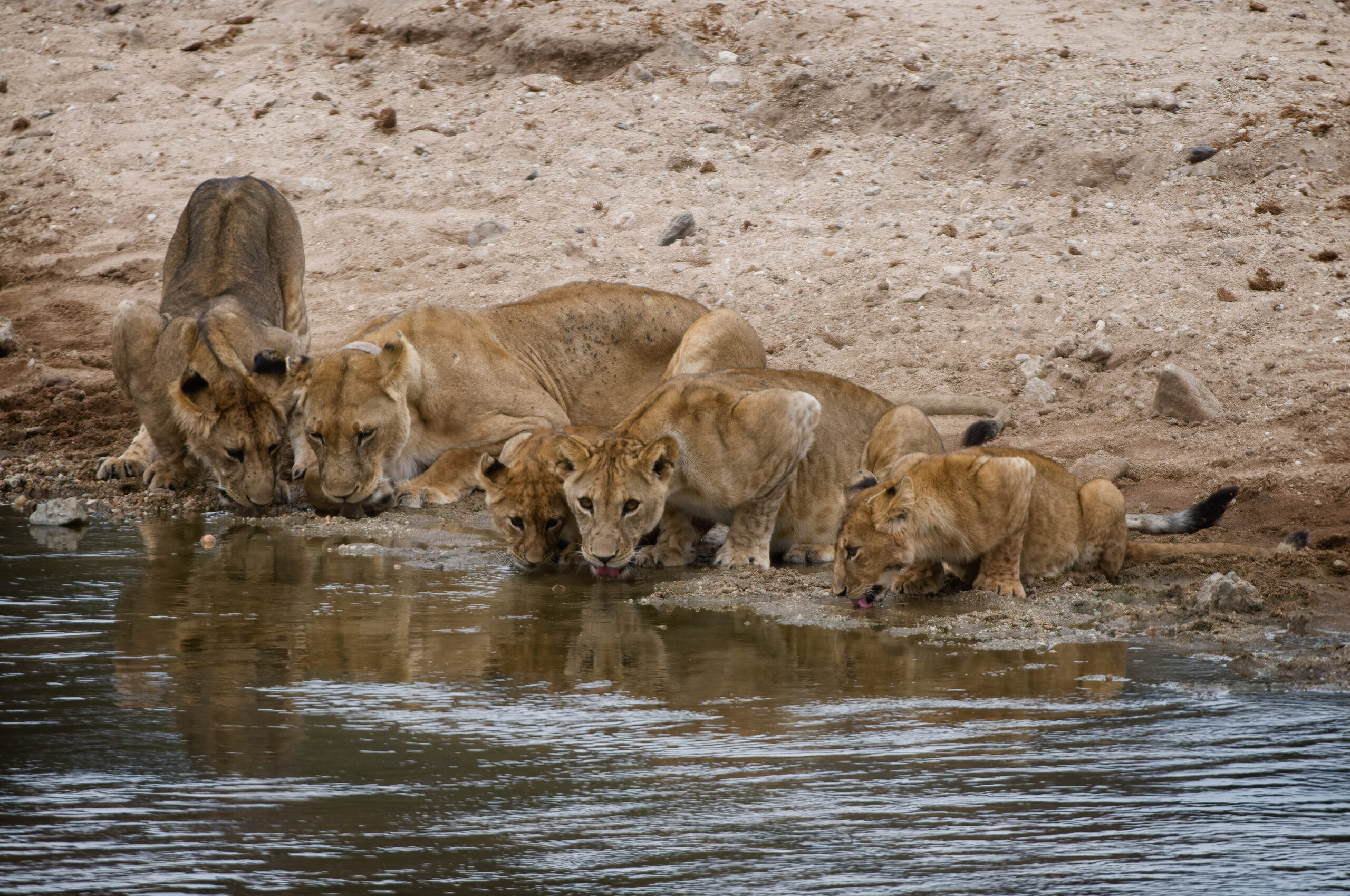 We watched for quite awhile waiting to see if the lions would get themselves something for dinner. But about 20-30 min later, something spooked the herd and they turned around and headed the other way. No dinner tonight…
We finally left the park around 5pm heading to Eileen's Tree Inn 2 hours away. Since we got there when it was getting dark we didn't get to explore much of the property but the place seemed really nice. We were a little worried coming through the town that the hotel is in. It is clearly a third-world area but the hotel surprised us. There were probably 20 people waiting to help the 13 of us when we arrived and the rooms are humongous. Glenn took a video of our room. Gotta get to bed now. It's late and we're out of here tomorrow morning at 6 to go find and hunt with the Hadzabe bush tribe. Another experience awaits!